Paneer tikka sandwich is a deliciously spicy sandwich made with coriander and mint chutney, paneer seasoned with tikka spices, vegetables and lots of cheese on top. The sandwich is then baked in the oven (or air fryer) till the cheese melts. The paneer cheese toast can be enjoyed as a weeknight meal, as a snack with tea, or a lunch box option for kids and adults. The recipe also includes freezer instructions, so you can make a batch and keep in the freezer for quick meals and snacks.
Paneer tikka sandwich – the ingredients:
The bread: This is the base of the recipe. My favourite bread for this recipe is mini Turkish bread / pide that I slice in half, and then top with green chutney, paneer, vegetables and cheese. In Australia they are called Turkish bread or Turkish rolls and are sold in packs of 4 at the supermarket. What I like about them is that they are sturdy with the right amount of thickness for both crunch and softness. Other options for bread include Subway style sandwich bread, mini ciabatta, flatbread, naan, pizza base, or just bread slices.
Coriander and mint chutney / Green chutney: Green chutney is what gives this paneer sandwich spice and flavor. You can use store-bought chutney, or you can make your own. I have a recipe here that can be kept in the fridge for 2 weeks or can be frozen.
Paneer: Paneer or Indian cottage cheese is a fresh cheese made from cow or buffalo milk. It's a super popular cheese in the Indian sub-continent. It is made by curdling milk with an acidic agent, such as lemon juice, vinegar or yoghurt. The loose curds are known as 'chena', and they are pressed together to form paneer. Once pressed, the paneer can be sliced, cubed or grated. As paneer is a type of cheese that doesn't melt, it's great for frying or grilling. Recipe for homemade paneer can be found here.
Spices: The paneer is cut into cubes, marinated with herbs and spices reminiscent of tikka flavor, and then grilled. I have prepared my own spice mix, but you can use a store-bought spice blend as well, such as tikka masala or tandoori masala.
Vegetables: I always add vegetables to my sandwiches – they add a hint of freshness, plus they are healthy. I have used onion, and green capsicum / green bell pepper but you can use a mix of whatever vegetables you prefer.
Cheese: The 'icing' on this sandwich! Any cheese can be used, as long as it melts well. I usually use cheddar, but you can use others or a combination as well. Some options include cheddar, mozzarella, Colby, pepper jack, pizza cheese.
What if paneer / Indian cottage cheese isn't available?
In case paneer is not available, a firm cheese like feta or halloumi can also be used. The procedure and marination will be the same, but the salt content may need to be adjusted as halloumi and feta are both on the salty side. It is also possible to make paneer at home – It is also possible to substitute the paneer for meat such as boneless beef or chicken strips to make a non-veg version of the sandwich.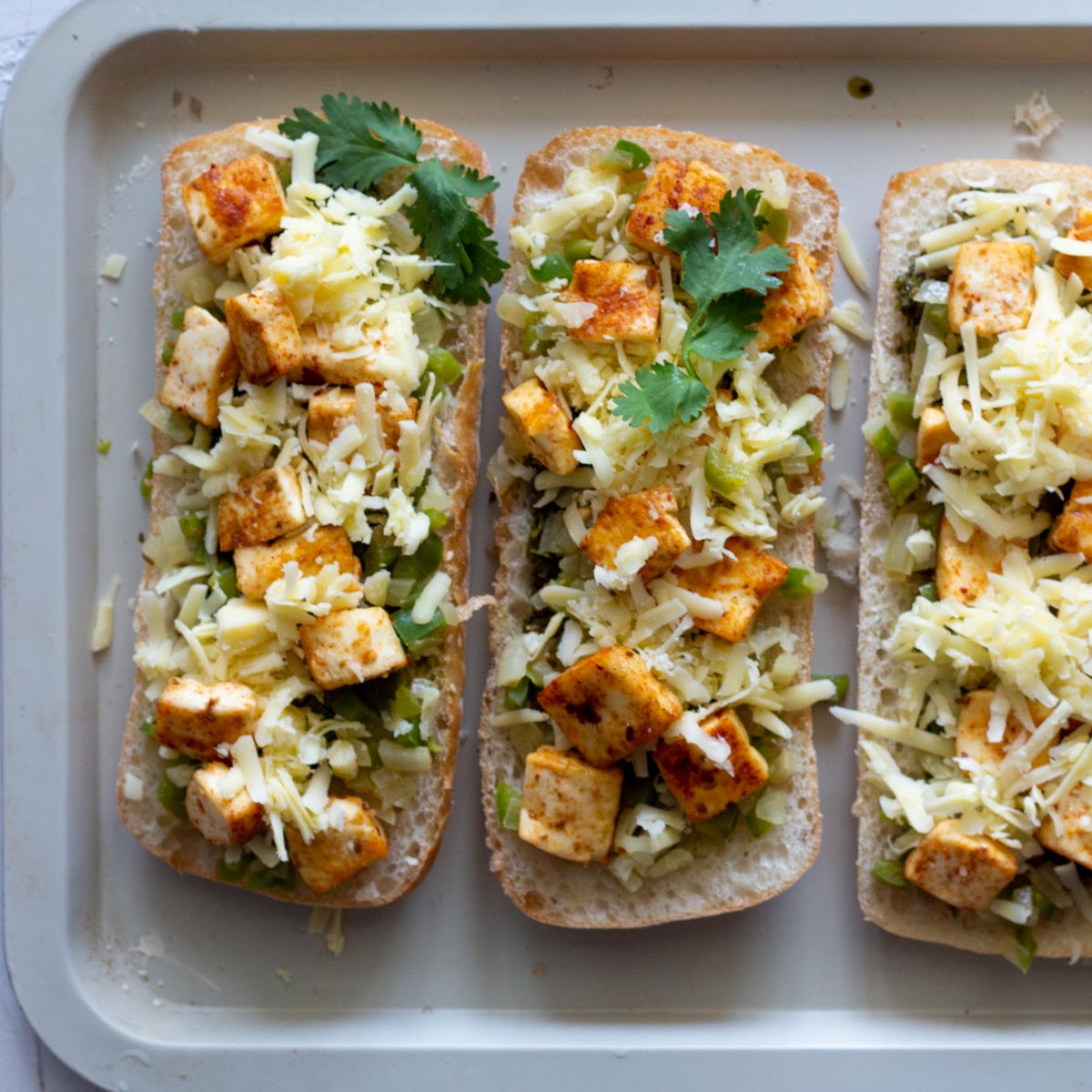 Is it possible to freeze paneer cheese toast?
It sure is! The first time I made this sandwich was when I had surgery the week after. I made a batch of these sandwiches and froze them. My husband would take one out, and then use the air fryer to warm them up. It was a super convenient and delicious snack.
To freeze, assemble the paneer cheese toast / open faced paneer sandwich on a flat tray or baking tray. Use a parchment paper or clingfilm to press the cheese down into the bread. Place the tray carefully in the freezer. Make sure the tray is straight, and the cheese doesn't touch the top of the freezer. Once the paneer tikka sandwich is frozen (this will take around 2 – 4 hours), take the tray out and wrap the chicken tikka bread pizza in clingfilm individually. Place in the freezer. Take out as needed and bake (or airfry). Frozen bread pizza will take about 2 – 3 minutes to bake versus fresh bread pizza.