How to make Paneer Samosas | Cheese Paneer Samosa
These scrumptious paneer samosas are a delicious vegetarian treat that can be had at any time of the day. Crispy and crunchy with a paneer and cheese filling inside. My favourite way of having these cheese paneer samosas is with a hot cup of tea and green chutney on the side. Samosas are also super popular during the month of Ramadan, where they are served at iftar time, which is the time when Muslims break their fast after a long day of fasting. The recipe includes instructions on how to freeze samosas, and also how to make samosas in the air fryer.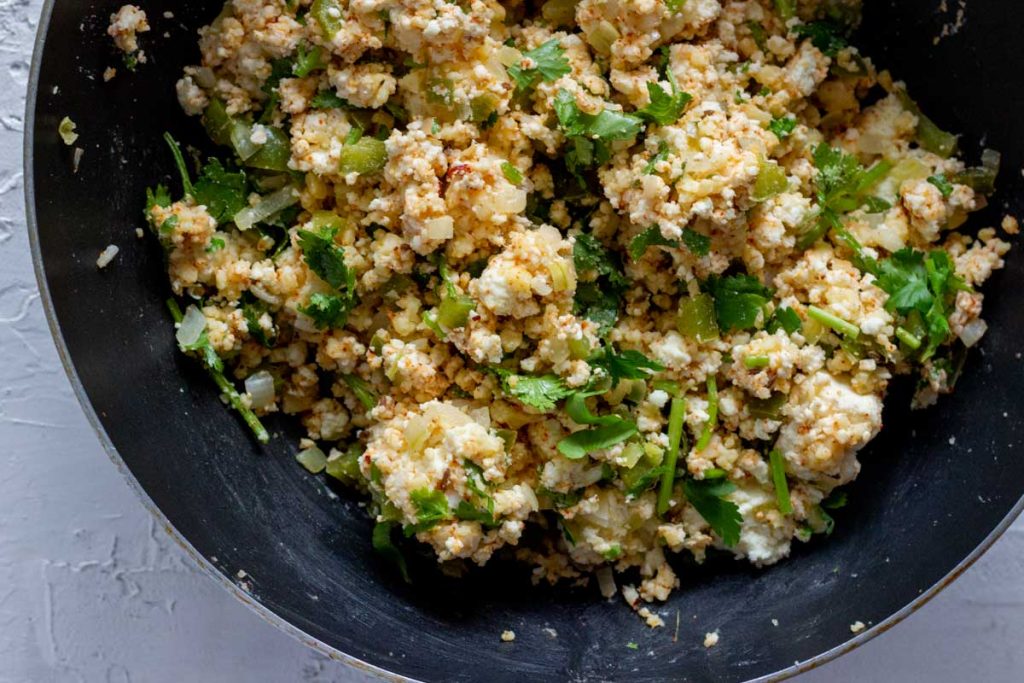 Cheese Paneer Samosas – the Ingredients:
Paneer / Indian cottage cheese: One of the main ingredients in these samosas is grated paneer or Indian cottage cheese. It's available at Indian and Pakistani grocery stores or can be made at home using fresh milk, and an acidic agent such as yoghurt, lemon juice or vinegar. Recipe can be found here. It can be grated using a manual grater or you can put it in the food processor and use the chopping blade.
Regular Cheese: The other cheese used in this recipe is cheddar cheese, which is also grated and then added to the filling. Paneer doesn't melt, but the cheddar cheese melts and makes the samosas gooey and cheesy. You can also use mozzarella, Colby, or pepper jack – basically any cheese that melts well.
Vegetables: Diced onions and diced capsicum / green bell pepper are added to the samosa filling to add bulk as well. These can be added raw but I prefer to sauté them with spices.
Coriander leaves / Cilantro: Coriander leaves are a must in Pakistani and Indian recipes. In case you don't like coriander leaves / cilantro, you can skip it.
Samosa Patti: The pastry coating for these cheese and paneer samosas is known as samosa patti (with patti meaning wrapper). It is also known as maanda patti, and is a rectangular sheet which can be shaped into a triangle. A flour-based glue is used to seal the edges. It is available in Pakistani grocery stores in the freezer section. The brand that I use in Sydney is known as Shahi. Alternatively, spring roll sheets cut into half or thirds can also be used.
How to freeze the paneer samosas?
One of the good things about samosas is that they can be frozen. That way you can make a big batch, place them in the freezer, and fry when needed. Be it for a tea time treat, for unexpected guests, or for iftar in Ramadan. To freeze these cheese and paneer samosas place the samosas on a serving tray or baking tray. Make sure they don't touch each other and spray oil on the tray to make sure the samosas don't stick to the bottom. Keep the tray in the freezer for about 2 hours till the samosas are frozen. Make sure the tray is flat. Once the samosas are frozen, they can be removed individually and put in a plastic bag. To fry, just take the frozen samosas out of the freezer and place in medium heat oil. There is no need to fry the samosa. Fry till golden brown. Frozen samosas will take 1 -2 minutes longer to cook compared to fresh samosas.
How to make samosas in the airfryer?
To make the samosas in the airfryer, spray them with oil spray on both sides. Place them in a pre-heated air fryer at 180 C and air fry for 8 – 12 minutes till golden brown. Turn the samosas halfway through, so they are evenly golden brown. Use the same method whether using fresh or frozen samosas; the frozen samosas will just 1 – 2 minutes of additional time.
Would love it if you could try out and rate the recipe, and let me know how it was in the comments below!